Forever Living Products Review
In this Forever Living Products review we hope we can set your mind at rest. We know that Network Marketing (otherwise known as Multi Level Marketing or MLM) has a bad name. This is basically because Network Marketing is mistakenly believed to be a pyramid scheme.
What Is A Pyramid Scheme?
According to the dictionary a Pyramid Scheme is:
"a form of investment (illegal in the United Kingdom and elsewhere) in which each paying participant recruits two further participants, with returns being given to early participants using money contributed by later ones."
What this means is, should the person invest in the scheme and not bring in anyone, they lose their money.
Forever Living Products have products that the new representative can sell and get paid a commission for those sales. If you want to earn a modest amount of money to cover extra expenses in your household, it is possible for you to earn just selling products. Where the analogy with pyramid selling comes in is when you want to build a team.
Team building is where the most money is made. Building a team allows you to earn team building bonuses and you also get a small percentage commission from your own team members product sales. As you grow in experience, you will find ways to grow your team and have a successful work at home business.
This provides you with the opportunity to build a business with unlimited earning potential. This means you could potentially personally earn more per year than the CEO of the company. Do you think that would be possible in a more traditional business structure?
There is a cost to join, but to find out the real facts, you can talk to one of our registered Forever Living Independent Distributors who can help you understand the process and what you need.
Click here to contact an ID now.
Alternatively you can contact using the email form below, call us on 07761922644 or
Forever Living Products Is A Legitimate Business
Any business will take work and this is no exception. If you open a shop for example, you wouldn't forget advertising or putting up a shop banner to attract customers, would you? A Network Marketing, direct selling business takes the same dedication and drive that a traditional one does. The difference is you don't have to keep stock and you don't have the overheads of a high street premises on top.
Network Marketing does have some other bad press that is basically self inflicted too. If there is a criticism of some companies, it's they still promote the approach friends and family option first. They really need to evolve into a more modern outlook and focus on building relationships with people and building trust that way. Pestering friends and family to tell them about your business off the bat is not the "be all and end all" to be frank.
Again, the representative you speak to here will be able to help you with any of your concerns.
With the right application, dedication and training there is no reason why you couldn't be successful in this business. The biggest problem with many who start out is they have high expectations of becoming rich quickly. Business is not like that and you should have no illusions. There is no Network Marketing Company that can provide a quick fix to high earnings. It will take work, but the potential is there for anyone who is prepared to work for it. As with traditional businesses it can take up to three years to get into profit.
Don't let that put you off because there are exceptions. We are giving you every chance of making the right decision for you and your family.
Who are Forever Living Products?
Forever Living Products are the world's leading producer of Aloe Vera products. All of the Aloe Vera is hand harvested from their own plantations in America. The aloe that is used in the products is the purest possible and is extracted from the inner leaf only. Hand harvesting also allows for the highest quality to be maintained and used in the products.
The product range also includes extracts from bee products, primarily the propolis, which is a kind of glue that bees use to cap the honeycomb in the hive. It has many advantageous properties, but the main ones are antibacterial and anti-inflammatory properties that help particularly when used topically on the skin.
What Products Do Forever Living Produce and Sell?
Forever living sell a wide range of products from skin
care to weight loss to household products.
Among the best sellers are the Aloe Drinking gels:
The original (yellow bottle) is 99% pure aloe Vera which has a citrus taste this is amazing for helping with any digestive issues from coeliac disease to crohn's disease as well as helping you to absorb vitamins and minerals from your food.
Berry Nectar is 90.7% pure aloe Vera with the added benefits from apple and cranberries. This is very high in vitamin C, helping to support your immune system, maintain your energy levels and cranberries, which help to support your urinary system.
Aloe Peaches is 84.5% pure aloe Vera with added peach purée making it the sweetest of the 3. This again has high levels of vitamin C, supporting healthy digestion and helping to promote a healthy immune system.
The drinking gels are designed to heal the skin from the inside out, so taking these on a daily basis, alongside a product from the skin care range can really help to improve your appearance.
The Sonya Skincare range is a fantastic product range primarily made for combination skin. This means that is suitable for almost anyone! The Gel Cleanser is a clear aloe gel that works to get deep into the pores and clear the skin. This is a great product to use for make-up removal too.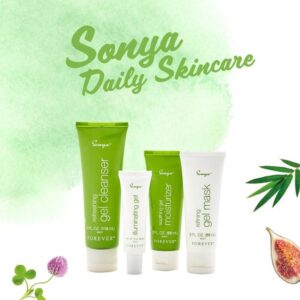 The soothing gel moisturizer is a fantastic base for foundation and is non-greasy thanks to the aloe base, this works by getting into the dermis layer of the skin providing the deep moisture that your skin needs.
The illuminating gel also works to help give you that aloe glow, enhancing the skins tone and
texture through getting deep into the skin and adding to the moisture and helping to prevent spots.
The refining gel mask is an amazing product that can even be worn to bed without coming off all over the pillows, meaning that you can leave it on overnight which gives it a great power in the battle with spots and ache.
Other products include:
MPD cleaner – a cleaning product for the whole house, from laundry to bathroom cleaner!
Aloe First Spray – fantastic on rashes and can even be used on pets.
Vitamin tablets (various combinations) and other Health Supplements
Weight management programs
Range of personal care products.
Who would be the ideal forever customer and business
owner?
Anyone who is looking to improve their skin, appearance or simply just after a high quality product that lasts. People come to Forever for their own reasons, mainly through recommendations as once you have tried the products you generally get hooked!
Ideal business owners include:
Single Parents
Those wishing to spend more time with young children (stay at home parents)
People looking for a bit of extra income alongside what they normally do
Those looking to cut down their full time hours but keep the same income
People who love the products and want a discount!
Check Out The Video Below:
The rep you join Forever Living with will help introduce you to the relevant training and helpful tips to get you started. The team will also help you to set up a good marketing plan that will set the foundation for future success.
Contact us today using any of the methods below and one of our dedicated reps will be in touch.
Call us on 07761 922644 or email us using the form below. Alternatively you can contact us on Facebook. You can also contact a Rep directly by clicking here.